The Hungarian
Coronation Jewels
THE CLOAK - The coronation cloak is an invaluable piece of the history of art, which was also worn by Saint Stephen I.

Originally designed as a closed chasuble, it is made of dark purple Byzantine silk and embroidered with golden thread. The latin inscription running across its surface horizontally reveals its origination and age: "Casula hec operata et data ecclesiae Sanctae Mariae sitae in civitate Alba anno incarnacionis xpi MXXXI indiccione XIII a Stephano rege et Gisla regina" (i.e. This chasuble was made in the 1031st year of the reincarnation of Christ, in the 13th indiction, by king Stephen and queen Gisela, and was given to the Saint Mary abbey at Fehervar). According to this, the cloak is more than 900 years old. On the back of the cloak, there is a large Y-shaped cross in the middle. Between its branches, a row of angel figures are standing, and at the cross of the branches, Christ is shown in an oval circle as he steps on a dragon and a lion, as the sign of his victory over death and sin.


On next page:

3. The Sceptre
The coronation cloak
The coronation cloak is an integral piece of the Hungarian coronation relics which originates directly from Saint Stephen I. The author of the contemporary Austrian Rimes Chronicle wrote it for the first time that during the coronation of king Andrew III. in 1290, the king was wearing a holy dress which was also worn by Saint Stephen I.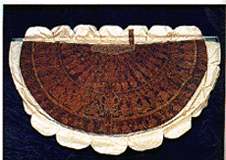 The two central figure on the bottom are king Stephen (Stephanus rex) holding an orb and a lance, and queen Gisela holding a model of an abbey. Between them, the unmarked picture of a young man is located who is probably their son, Prince Emericus.