The Hungarian
Coronation Jewels
THE ORB - Coronation Jewel

The orb symbolized the territory, the country, the ground of the kingdom. There are orbs of other countries into which they put soil. The original orb which belonged to Saint Stephen I. was lost, and the present one is made of two silver hemisphere which are soldered together and gilded. On the top of the orb, the apostolic double-cross emerges which was awarded by Pope Sylvester II. to Saint Stephen I. in 1000 A.D. in recognition of his mission to turn the pagan Hungarian to christianity. To the front and the back of the orb, a little shield is attached which carry the joint coat of arms of the Hungarian "Arpad-stripes" and the Lilies of the House of the Anjou from Naples. This particular joint coat of arms is very rare and was used for a short period of time only by Charles Robert Anjou king reigning in Hungary between 1308-1342. This coat of arms could be attached later and it is possible that the orb is much older.


On next page:

5. The Sword
The remarkable quote
Hungary has also been known for its tolerance which had its foundations as far back as St. Stephen as shown in the remarkable quote below.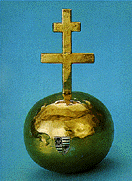 "Make the strangers welcome in this land, let them keep their languages and customs, for weak and fragile is the realm which is based on a single language or on a single set of customs." "(Unius linguae uniusque moris regnum imbecille et fragile est)" St. Stephen in a letter to his son St. Emeric, 1036 A.D..